Advice for Adult Beginners of Guitar
I fell in love with classical guitar decades ago, and have been wanting to learn ever since.  Did I miss my chance?
My youngest child just started school, and I want to do something for myself.  Am I too old for music lessons?
I just retired and finally have time for a hobby.  I really love flamenco and Spanish guitar, but it seems so difficult.  Can an old dog learn new tricks?
I have been teaching guitar for almost ten years and have plenty of success with adult beginners (thirties through retirement).  Don't worry!  Contrary to popular myth, you do not have to start playing as a child to become an excellent musician and to really enjoy your instrument.  If you are starting later in life, some things – learning new patterns of thought and movement – may be more challenging.  But other things, especially the discipline and self-awareness that comes with being older, will work to your advantage.
Patience
Be patient with yourself.  Children are used to starting from zero in learning a new skill.  Many adults have forgotten what it is like to be new to something.  Playing the guitar requires your hands to learn a very specific set of skills - and even develop new muscles! - that you have never needed before.  
Watch a young child handling a pencil and writing in big, awkward letters.  While we may not remember learning to write, our hands needed years of training to become proficient at a repetitive motion that is now second nature.  Playing guitar is no different.  Regardless of your starting age, good technique comes only with years of patient, focused practice.  
Start with a Decent, Well-Adjusted Guitar 
This goes for beginners of all ages.  Your guitar should be easy to play and should stay in tune.  The action (space between the strings and the fretboard) should be fairly low.  Expect to pay $200-400 for a good starter guitar, and make sure the store sets it up before you take it home.  If you want a really nice guitar, either wait a few years until you have developed preferences for sound and feel, or ask your teacher to help you select one.
Choose Songs that Suit Your Level
Many adult beginners fall in love with classical guitar listening to the works of composers such as Albéniz (Granada, Asturias/Leyenda), Tarrega (Recuerdos de la Alhambra, Capricho Arabe), Barrios (La Catedral), and Joaquín Rodrigo (Concierto de Aranjuez).  These are not beginner guitar pieces!  These songs have passages that challenge even advanced players.  Attempting repertoire that is way above your level leads only to frustration and poor musicianship.  
Trust your teacher's judgment and ask him/her for recommendations.  There is a whole world of gorgeous classical guitar music suitable for beginner and intermediate players. When you are technically and musically ready to try one of the more advanced classics, go over the fingerings with your teacher and learn the score very slowly and carefully (for example, a few measures per week over the course of a year). While you are patiently tackling the classical guitar masterpiece of your dreams, continue learning easier pieces and reviewing old repertoire.  This will help balance out your technique and will keep you fresh and interested.
---
Check out this full length guitar course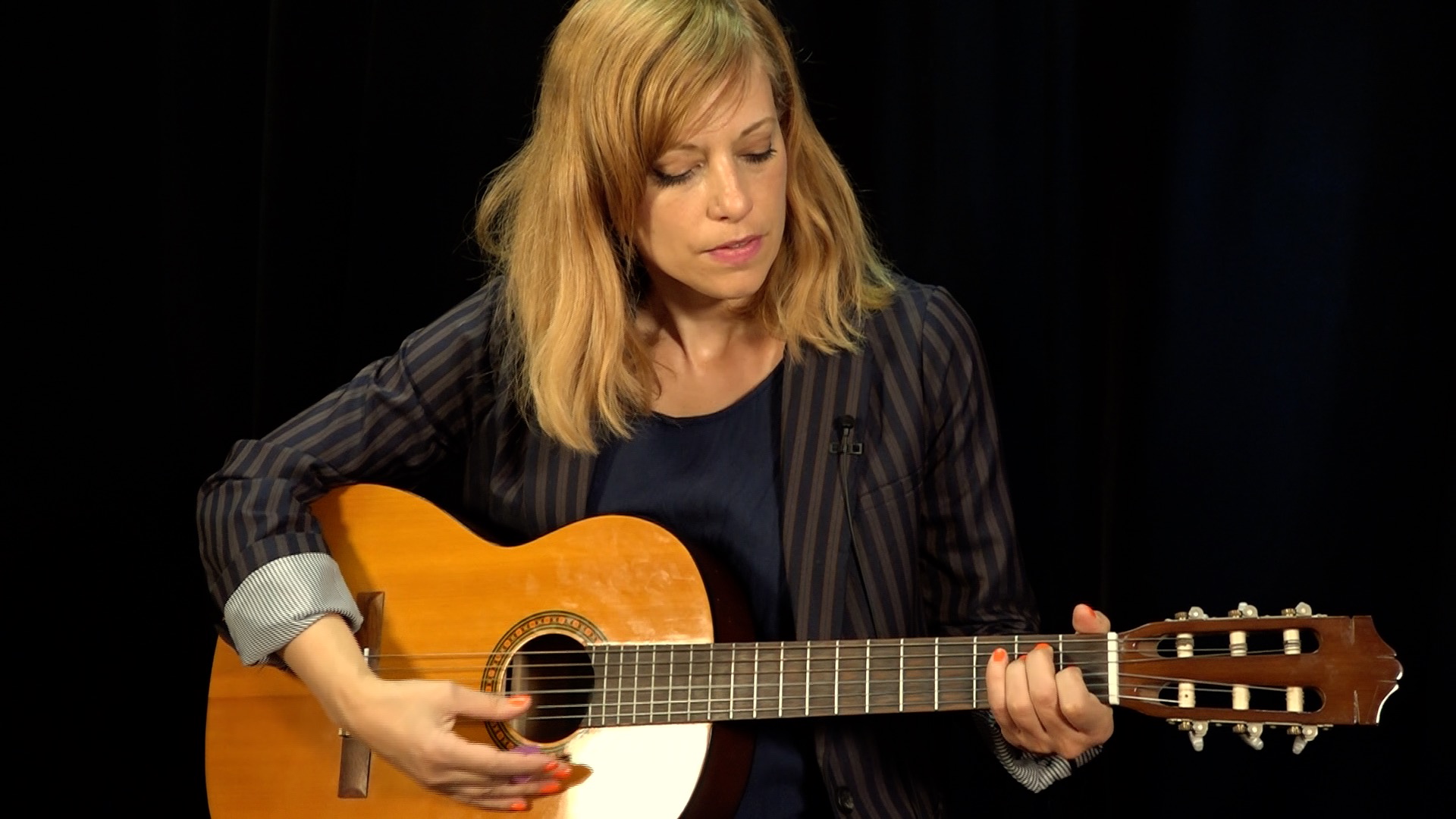 Start on guitar with this self-paced course.
---
Set Realistic Expectations for Practice Time
You are busy.  You probably work a full time job, may be raising a family, and have countless other daily obligations.  When kids tell me they didn't have time to practice, I respond with disbelief and tell them to replace some of their daily video game or texting time with guitar practice, end of story.  When adults tell me they didn't have time, I understand.  However, many adults make the mistake of setting overly-ambitious goals for practice time.  They plan to practice an hour every day, and when they have to work late one week (or a kid is sick, or the car breaks down, etc.), they give up on their plan and don't even touch the guitar. 
Fifteen minutes of practice is infinitely better than no practice at all.  In fact, fifteen minutes a day for a beginning guitar student can go a long way.  Be up front with your teacher about your time constraints so that she can set attainable weekly objectives for you.  Make a practice plan that is reasonable, stick to it as religiously as possible, and if you get off track, don't be hard on yourself!  Just get back on track as soon as you can. 
Also, it's okay for your lesson to include some 'practicing'.  One thing I like to do in lessons for busy adults is a kind of 'personal trainer' approach.  Rather than fill the student with information, notes, and recordings that he or she goes home to practice and absorb, we go through the student's technique exercises together, review old repertoire, practice the difficult passages of their current repertoire, and experiment with interpretation together.  Being with the student during the practice  proccess helps me correct weaknesses in their approach that I might not notice otherwise.  Moreover, it is encouraging for the student to see the progress that is possible in a single, focused hour.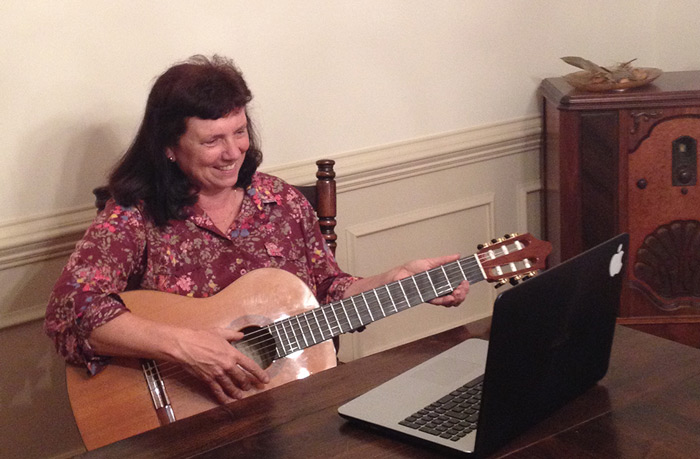 Find a Teacher You Like and Take Weekly Lessons
Lessons are important not just for the guidance and information that you receive, but for motivation.  For many adults, knowing that they have a lesson coming up gives them the bit of pressure they need to carve out a few practice sessions in their busy week.  
If you find yourself pressed for time, quitting your weekly lessons doesn't help.  In fact, quitting lessons due to time constraints often leads to the guitar ending up in the closet.  Ask your teacher if he/she would be willing to take a 'training' approach to your lessons for a while.  When your schedule calms down, you can return to the 'maximum information per lesson' approach.  This way, once you have time to devote to music again, you have at least maintained your level, and are ready to take off again full speed ahead. 
Get a Fresh Perspective
Attending a guitar workshop, festival, or master class is a great way to get perspective on your playing from professional concert artists and renowned pedagogues.  Festivals are usually a mix of concerts and classes, so you will be inspired and motivated by world-class performances, expert advice, and meeting music peers with similar interests.
If you study for several years with the same teacher and arrive at a plateau in your musical development, consider changing teachers.  We teachers each have our own special way of understanding music, habitual ways of explaining, and techniques for helping students advance.  If you put a lot of hours and hard work into responding to your teacher's advice, odds are you will absorb the majority of what he/she has to offer after a few years. 
Deciding to change teachers doesn't mean you claim to have surpassed your teacher in playing ability, and a mature teacher will understand that perfectly.  When a student values my input, loves playing, and progresses rapidly, I feel honored when the time comes for them to move on.  It means that both of us, student and teacher, have done our jobs well. 
Make Playing Music Part of Your Social Life
If you are a classical guitarist, look for a community guitar ensemble in your area.  My hometown has an ensemble (the VCU Community Guitar Ensemble) of around thirty adult classical guitarists that rehearse and perform concerts together in the spring, summer, and winter holidays.  Many beginning adult guitarists join the ensemble with minimal sight-reading and rhythmic skills, and improve immensely after just a couple seasons.  They also have a lot of fun, sound great, and are some of the warmest, friendliest people I have ever met.  If you are learning flamenco guitar and are lucky enough to have flamenco dance in your area, try accompanying some classes.  If you are a folk or fingerstyle guitarist, find other instrumentalists and start playing together.  Playing with other instruments helps your rhythm, musicality, and communication.  Above all, playing in a group is really, really fun.  Finding a fun social outlet for your musical passions is the surest guarantee that you continue playing, learning, and enjoying music all your life.  
Related
---
Take your first steps on guitar with this course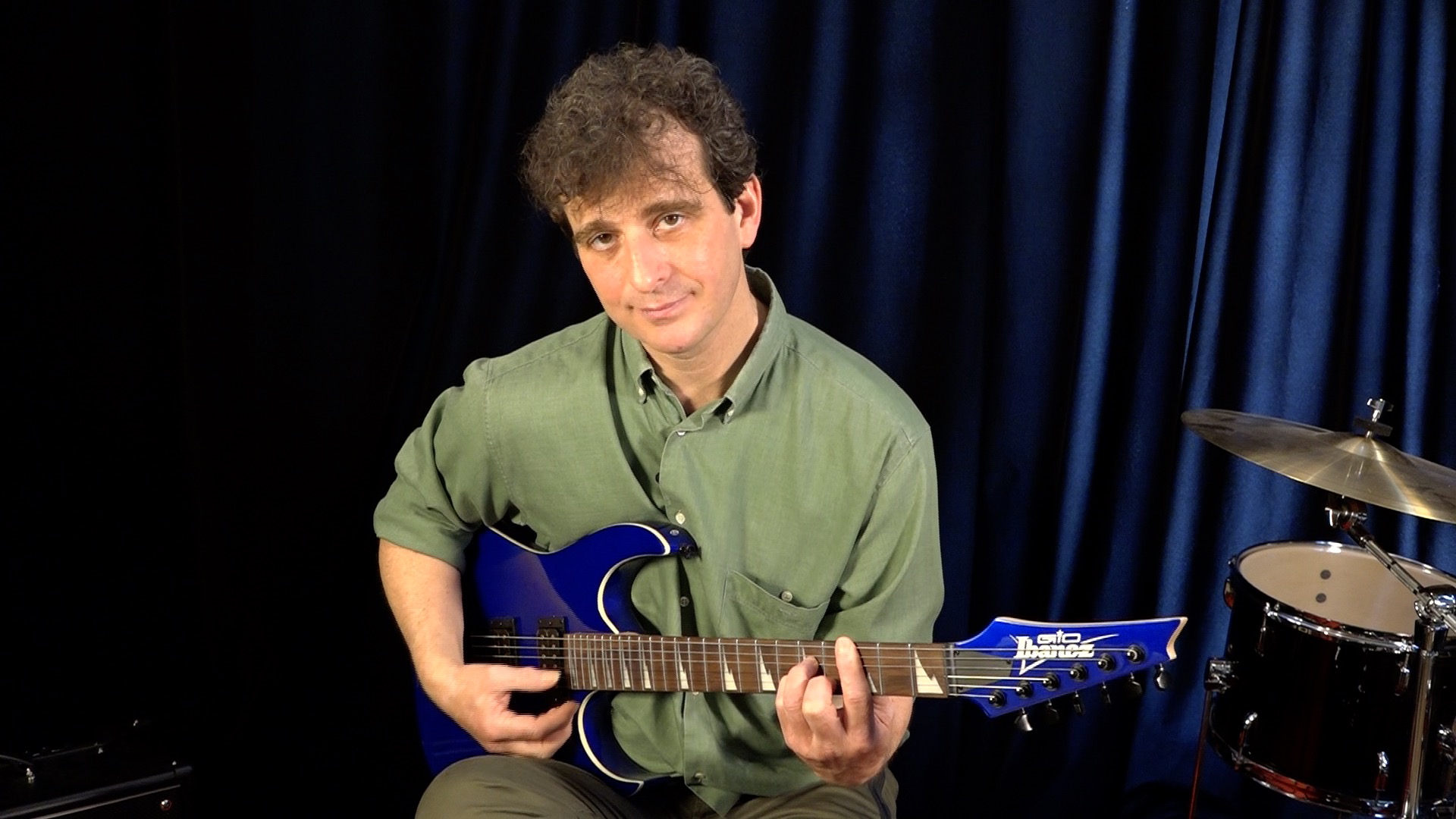 Not ready for 1:1 lessons just yet? Check out this self-paced guitar course.