Encouraging Your Aspiring Young Professional
Part 1 – For Parents of Young Guitarists (ages five to nine)
Does your child light up when they hear their favorite song or see a new music video?  Do they love their guitar lessons and possess some degree of natural aptitude for music?  Is your child already talking about a career in music?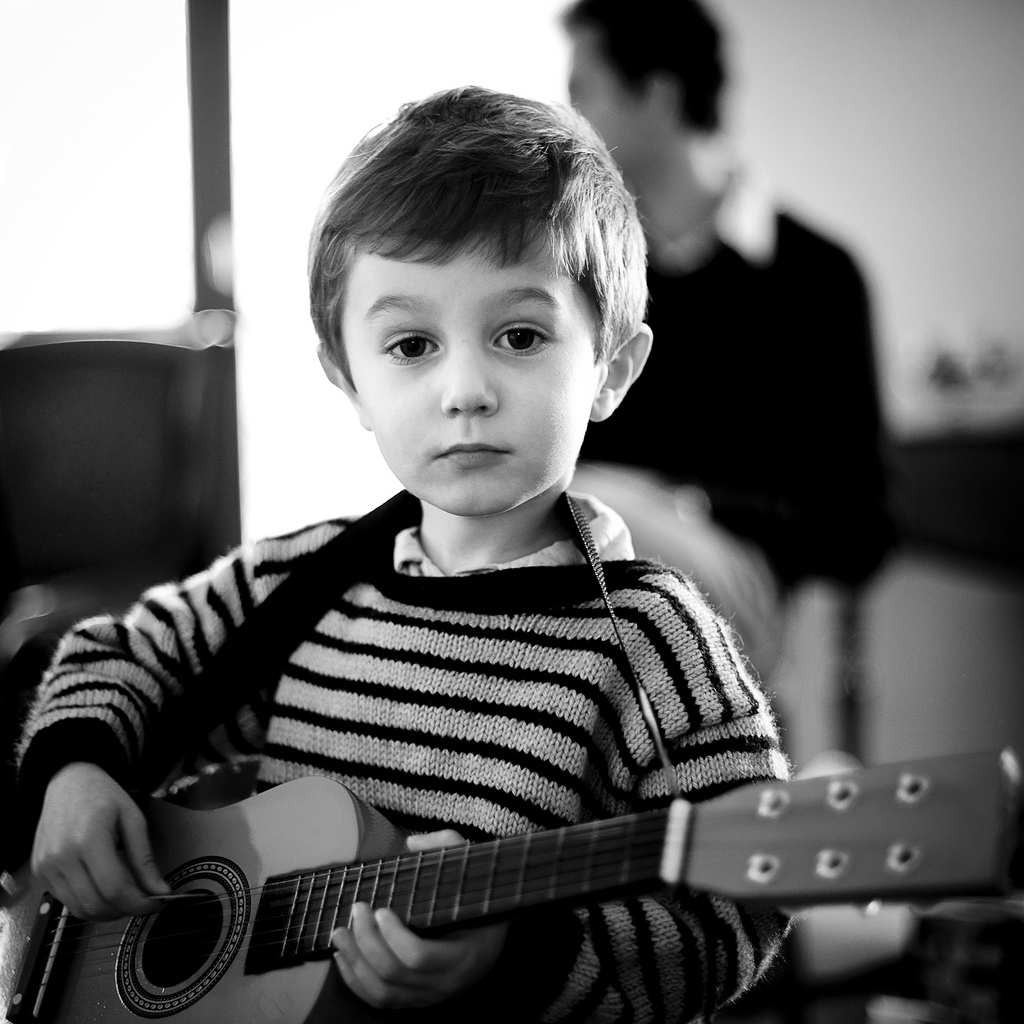 While young children are subject to fleeting career ambitions, if they're excited about music now, you'll surely want to encourage their passion.  You'll also want to give them the tools necessary for success later on, should their musical ambitions grow with them.  Here are some ways you can help fuel your young guitarist's enthusiasm and prepare them for success down the road.
Keep fun and enjoyment the priority
There is no need to push hard early with the guitar.  There are instruments (for example, piano and violin) that require rigorous training from an early age in order to be competitive as an adult professional. Fortunately, guitar is not one of those.  There are plenty of successful professionals who started taking the instrument seriously in their teens or even early twenties.  Make their childhood as musical as possible as you patiently guide them in developing good practice habits and a solid musical foundation.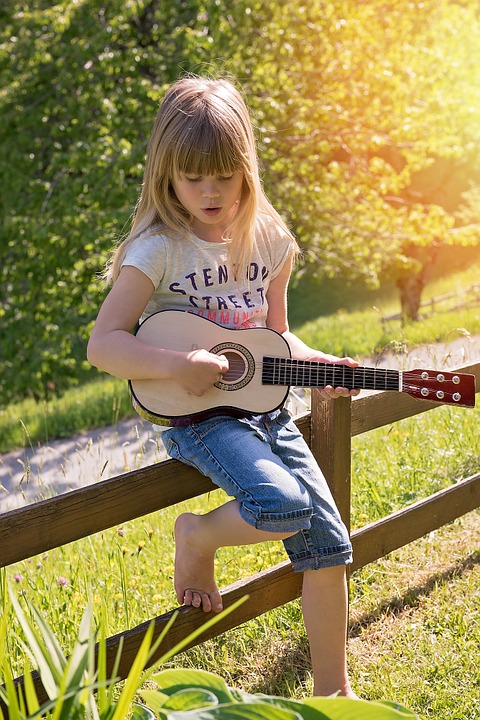 Enforce consistent practice
Establish a practice routine from the very beginning and accept the responsibility of enforcing it.   It's impossible to advance without regular practice, and six-year-olds simply do not have the discipline to take on the task independently.  Make practice an inflexible part of their daily schedule that is not subject to moods, negotiation, or forgetfulness.  Treat it like homework or brushing teeth – but hopefully a lot more fun!
Emphasize quality over quantity of practice time
Guitarists under age nine should practice up to (not more than) one hour per day.  I usually have beginners start off with ten minutes daily and then gradually increase that amount as their repertoire becomes more complex.  Whether the student is practicing ten minutes or a full hour, it's vital to have a clear goal and plan for every session.  As your child begins practice, help them articulate their objectives out loud or on paper.   
Be sure they learn to read music
The style(s) of music that your child learns in lessons isn't too important at this point, but it will help to get an early start reading music notation.  Talk with your child's guitar teacher to be sure that it's part of the curriculum.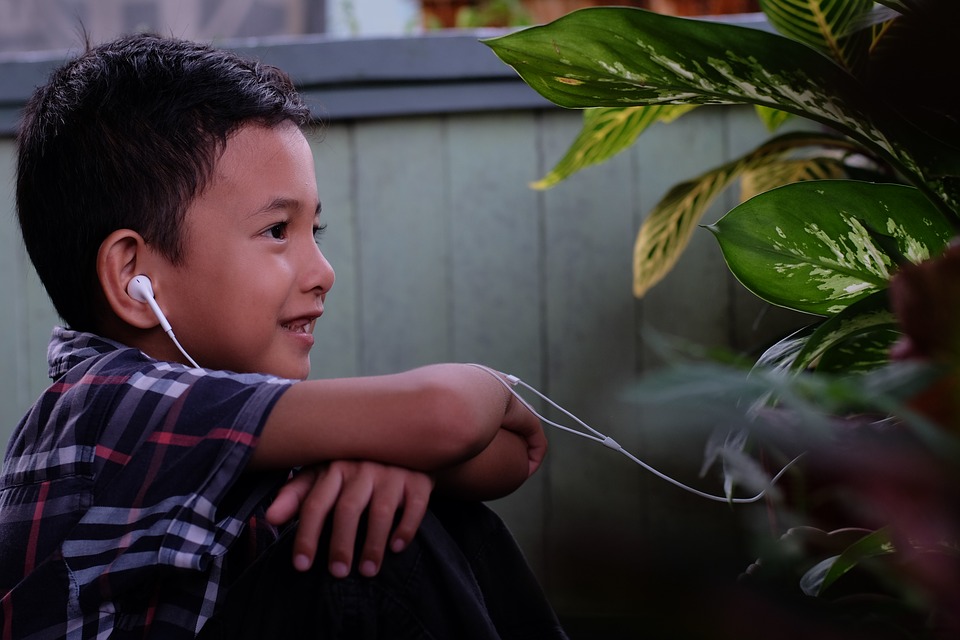 Listen and explore
Make it easy for your child to explore music at their leisure.  Give them access to a diverse home library and streaming options like Spotify and Youtube.  When they love a song or album, help them find out more about it.  Look up the lyrics, figure out what instruments are part of it, read about how the album was produced.  If it is an older song, find out more about the historical context in which it was composed, recorded, and released.  Help them find out about the life of their favorite musician and history of their favorite a band.
Cultivate diverse musical tastes
Introduce your child to music outside the popular favorites of his or her peer group. Quality and inspiration can be found in all styles, and exploring new sounds opens up our minds and ears.  If you're not sure where to start, try attending an international folk festival or world music festival in your area.
Encourage artistic opinions and thoughtful criticism
Developing personal tastes and opinions is vital to being a musician and it's not something that can be taught.  The creative process has a lot to do with liking or disliking something and having the confidence to act on it.  Encourage your child to articulate why he or she reacts a certain way to hearing a song.  For example, maybe they love the live version of a song because of the visual excitement and energy of a guitar solo.  Maybe they dislike an acoustic cover of the same song because the guitarist doesn't bring out the melody clearly and the sound quality is poor.
Make music social
Take your child to musical events and have him or her invite a friend.  Possible destinations could be symphony concerts, ballets, recitals by music students at a local university, shows by age-appropriate local bands, workshops and master classes by visiting artists, and local music festivals.  Make it fun for both the your child and their friend, and ask them questions about the event to get them to think critically.
Find and invent frequent performance opportunities
Performing is great for young musicians' confidence and it gives purpose to their practice and goal-setting.  Record a video whenever they learn a new song that they are proud of.  Share the video with friends and family so they can enjoy the positive feedback.  Have them do in-home recitals for the family when they reach a new milestone.  Participate in school talent shows, recitals, and competitions whenever they come up.
With these tips in mind, you can be sure to encourage your child's interest from a young age without risking burn-out.  Whether they continue along a professional path or not, they'll be sure to lead a musical life.
Leah Kruszewski has been a guitar teacher for nearly ten years, specializing in acoustic, classical, flamenco, and fingerstyle guitar. Learn more about her private lessons.