Lessonface 2020 Year in Review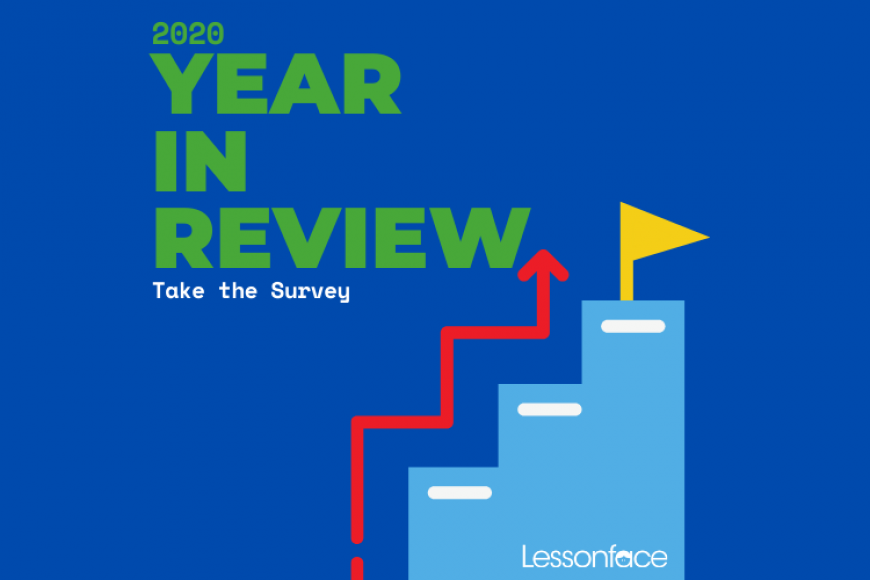 At the end of 2019, we at Lessonface made the decision to change our company's legal designation from Corporation to Public Benefit Corporation. The change was formalized legally in early April 2020 with adding our mission to our Articles of Incorporation.
An aspect of becoming a PBC is that at the end of each year we track how well we achieved our mission. Our mission, in key part, is: help students achieve their goals while treating teachers equitably.
So, really, two major aspects that we're exploring in this article, for which we'd like to ask your feedback:
Students achieving their goals
Treating teachers equitably
Read the whole Mission here.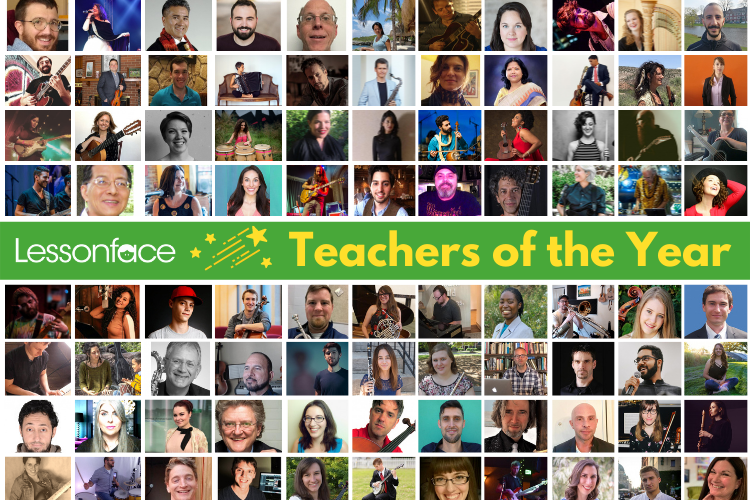 So, how'd we do?
On the treating teachers equitably front, pretty well! Our average rate paid-out to teachers this year was $41/hour for lessons taught, including time spent in free trial lessons. Now we all know teachers spend additional time planning and preparing for lessons, as well as sending notes and answering messages between lessons. Still, $41/hour is not bad. This hourly rate was a slight drop from prior years, which have been more in the mid-$40s range. Teachers on Lessonface are able to set their own rates, and we have seen some slightly more aggressive pricing approaches in 2020.
Also, as part of our efforts to treat teachers fairly and ensure we're respecting their time, we enforce cancellation policies, have clear qualifications to be featured on the site, and recommend teachers to students based on quantitative, earned metrics like student retention and reviews. As a key part of the above hourly pay-out, our "take" is a small percentage of lessons taught, between 4-15%, which includes the credit card processing fees. We very much appreciate the teachers who choose to teach through Lessonface, and seek to make using the platform a rewarding endeavor on all sides. Read more about teaching on Lessonface here.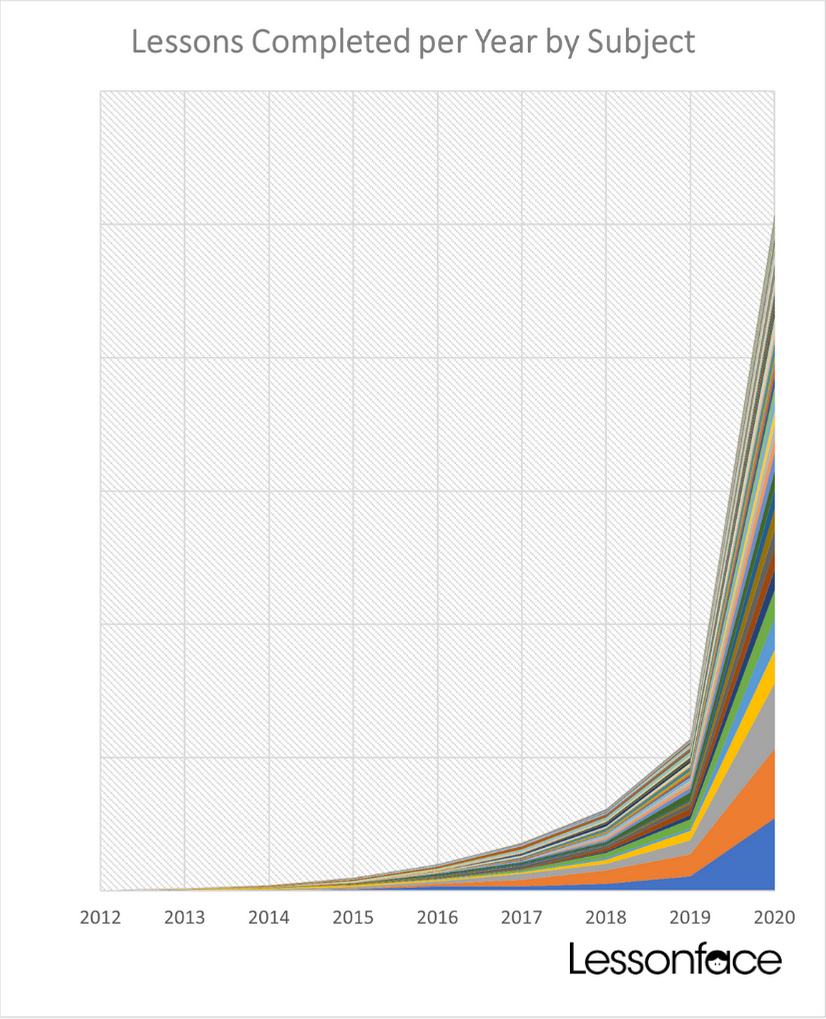 Helping students achieve their goals is a little more difficult to quantify, and we intend to spend time in early 2021 figuring out how to better measure it! If you are a student, current, past, or future, we would love to have your help: Fill out our  2021 Student Survey to tell us about how Lessonface has done in helping you achieve your goals. As an added thanks, you'll get a coupon code at the end of the survey so you can better achieve your goals with the help of a teacher!
94% of the Lessonface teachers who responded to an end-of-year teacher survey said that their students are motivated to achieve their goals in their online lessons. The teacher respondents collectively have successfully taught more than 28,000 lessons via Lessonface, so a fairly informed group on the subject!
As a student (still assuming you, reader, are a student) do you feel the same? How can Lessonface better help you achieve your goals, and how are we doing overall? Please let us know by taking this 3-minute survey.
Students are taking more lessons than ever on Lessonface, both cumulatively, as you can see in the growth chart on this page, as well as as individuals. And with very few exceptions, students give their lessons on Lessonface five stars, for a average of 4.98/5 stars given for the over 5,000 reviews given in 2020 on Lessonface.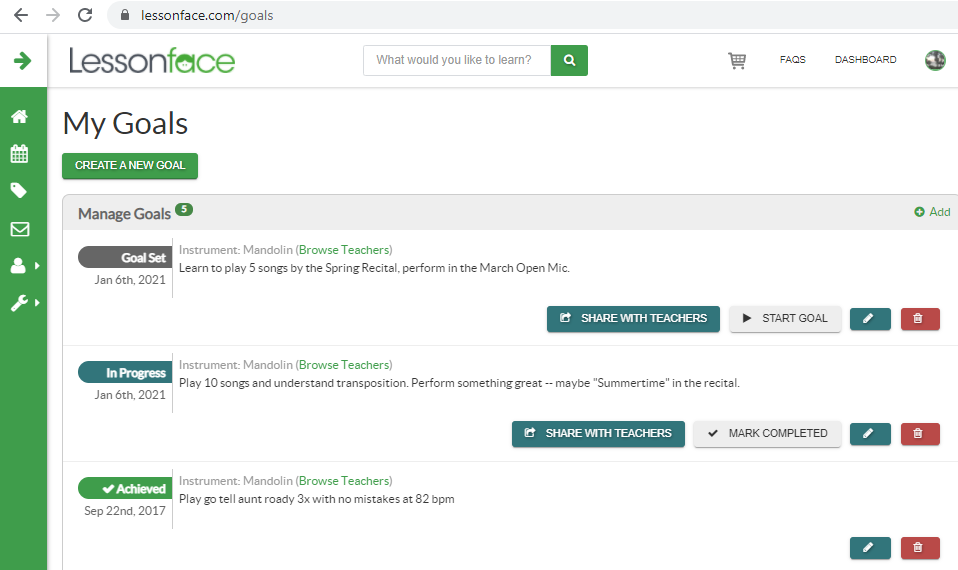 Our goal-setting tool, pictured in the screenshot, is an indicator, of course, also! Students are setting goals, marking them in progress, and "achieved," but likely, I believe, because we don't really push this tool prominently on the website it's not very utilized. Ready to set some goals for the New Year? Just log in and navigate to your profile >> Goals, or go to this link: https://www.lessonface.com/goals. The goal-setting tool is free to use, you just have to be signed into your (free) account on Lessonface to access it.
As one of our primary goals for 2021, we want to better help you track and achieve yours. Let us know your thoughts about what might help the most in the Survey, in the comments below, or by contacting us directly. Your input will be of great help to further assess how we have performed according to our mission, as well as to align our efforts going forward.
Here's to a healthy, happy, and fruitful 2021, full of joy and accomplishment. Thanks for your interest in our past year at Lessonface! I sincerely hope we can help you achieve your artistic and self-expression goals this year and beyond.