Online Music, Language & Academic Teachers of the Year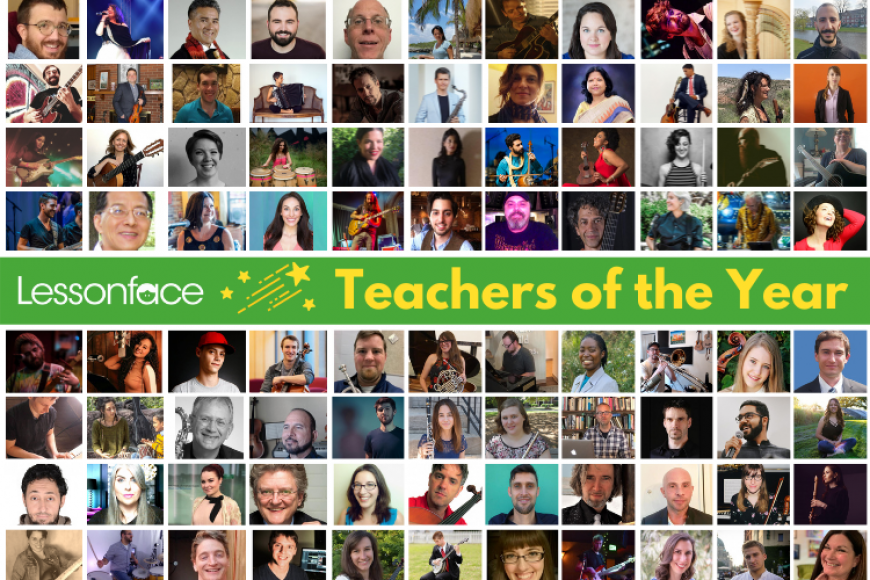 Extraordinary Online Teachers of the Year
As the year comes to a close, we are proud to present our 96 Teachers of the Year - one for each active lesson subject on Lessonface, from acoustic guitar to xylophone. Congratulations to this amazing group, and all the other talented experts on Lessonface as well! In this challenging year, your guidance and joy have been an inspiration to many. 
Covering eighty-five music categories, twelve languages, and five academic subjects, the Lessonface Teachers of the Year are extraordinary individuals dedicated and committed to working with their students to advance their skills and help them meet their goals.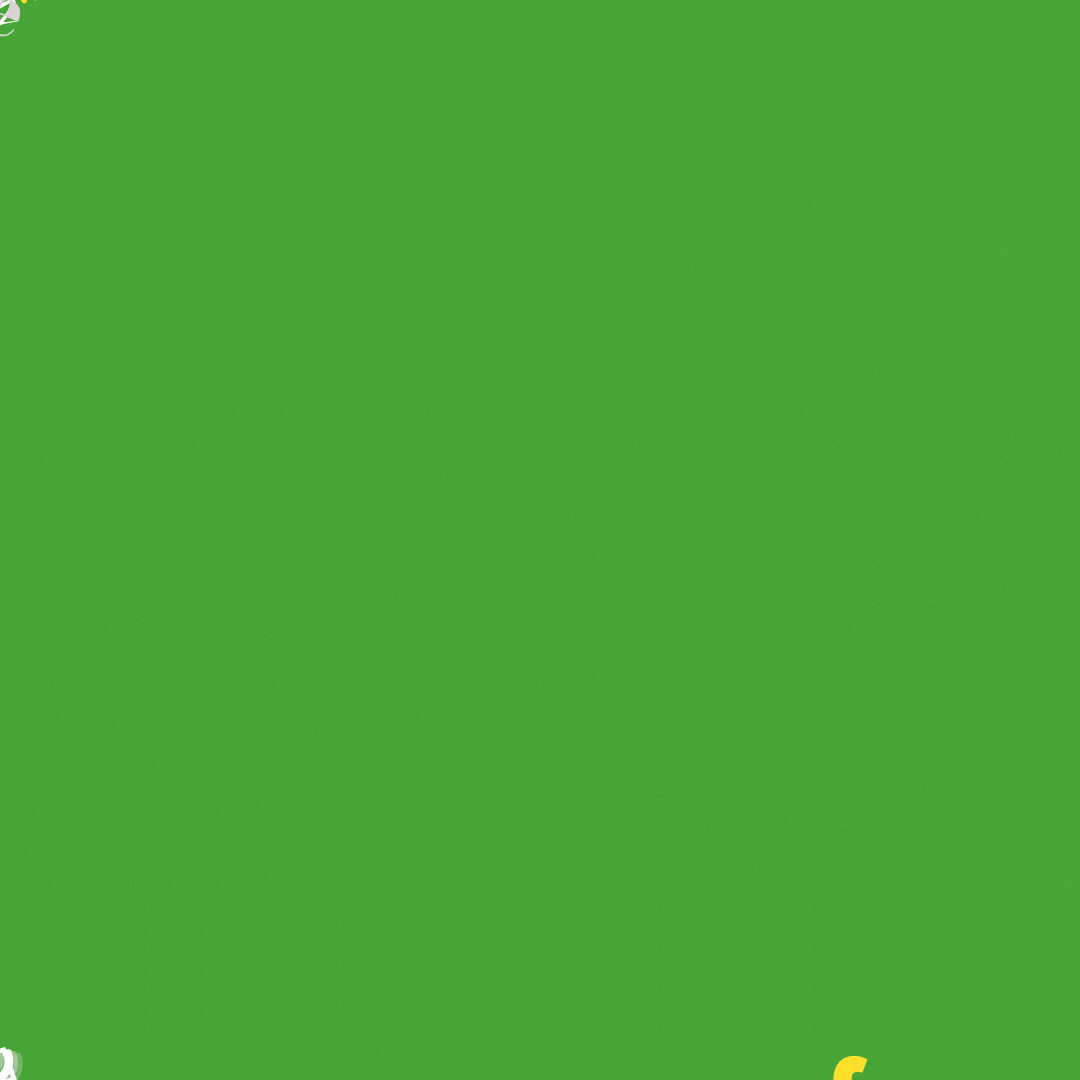 Top Teacher of the Year
Lessonface is pleased to announce Adam Dias as the Top Teacher of the Year.  Adam plays and teaches rock, jazz, blues, classical, pop, folk, bluegrass, and other traditional music genres. A guitarist, pianist, songwriter, and multi-instrumentalist, Adam's students rave about their lessons; the dedication and support they receive from Adam are shown in his many 5-star reviews:
"Adam breaks down pieces so that each lesson I feel I am making supported progress."

Banjo - Peter, Verified Student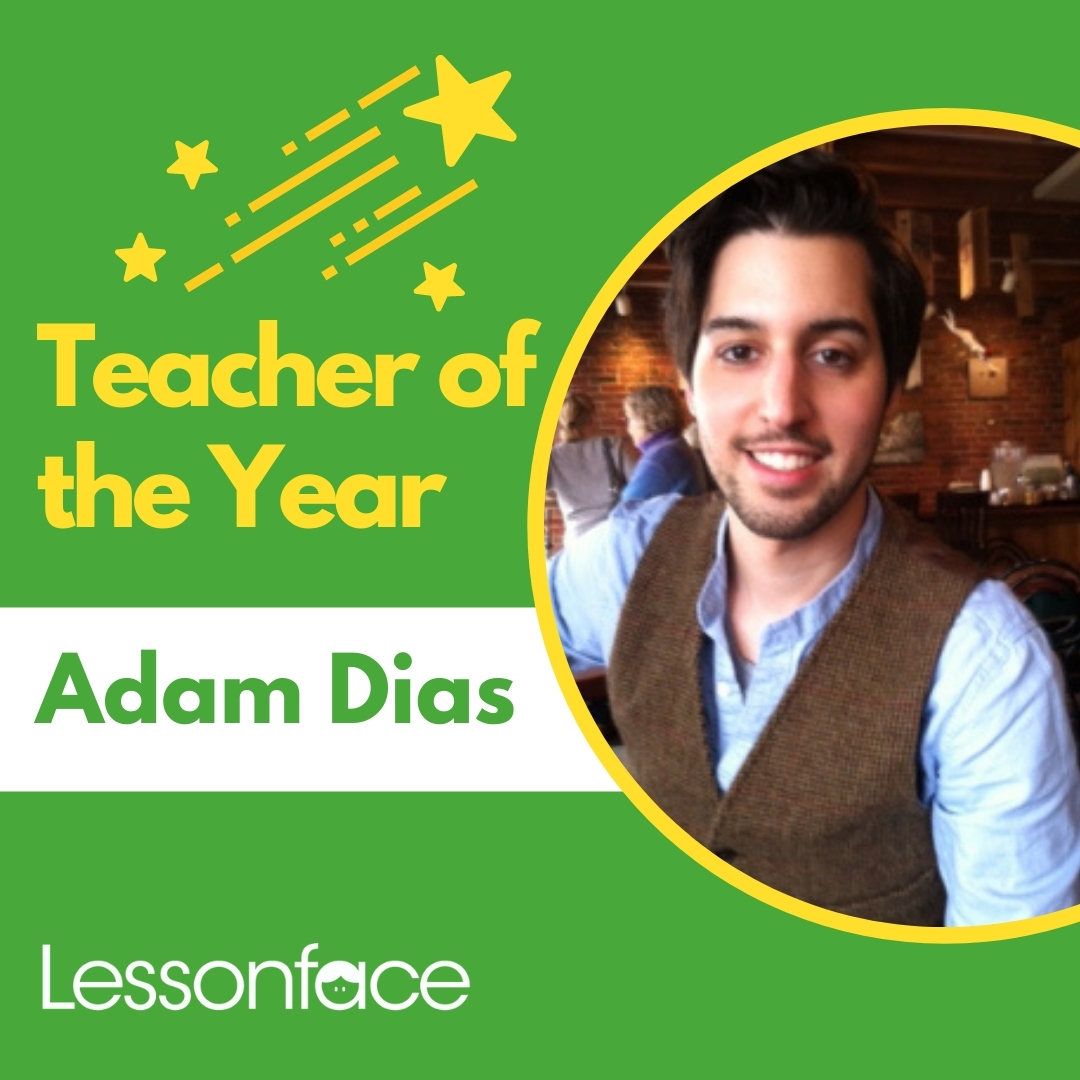 "Adam was super great with my 9-year-old! Very patient, and she had a lot of fun."

Acoustic Guitar - Brittany, Verified Student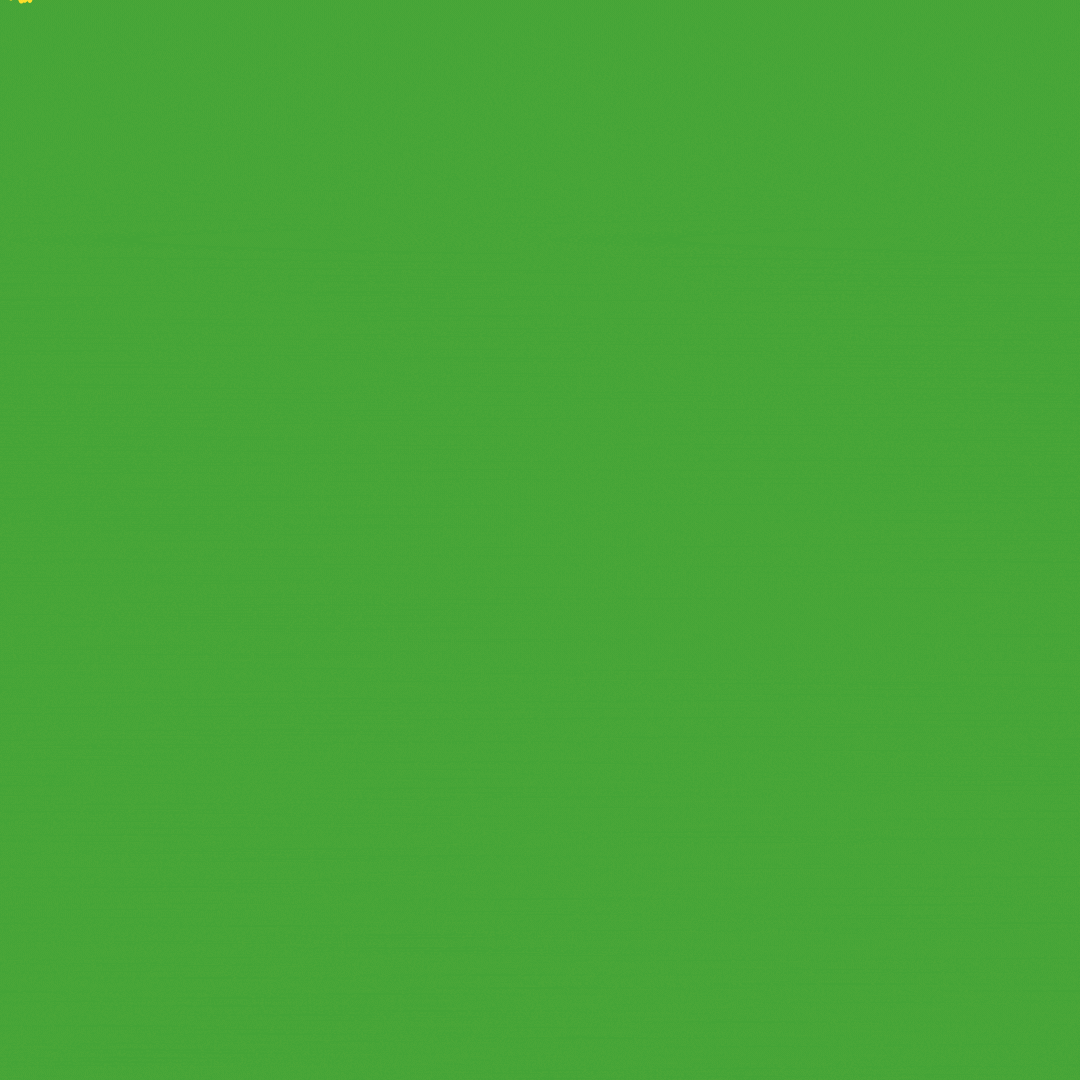 From Ableton, Accordion & Acoustic Guitar to Uke & Xylophone
Over 85+ music categories are covered by the Lessonface Music Teachers of the Year.  Let's meet the amazing online Music Teachers of the Year that excel at giving online music lessons. To learn more about each teacher, click each teacher's name, and view their teaching profile.
Ableton, Lead Guitar & Metal Guitar:  Yoel Genin
ABRSM Exam Prep:  Jovana Jankovic
AccentTraining & Audition Prep for Actors:  Meggie Greivell
Accordion:  Io Le Moller
Acoustic Guitar:  Samuel Marvin
Alto Sax:  Willem Moolenbeek
Arranging:  Andrew McLemore
Audio Recording and Music Production:  Geoffrey Edwards
Audition Prep from Juilliard Alumni:  Mari Coetzee
Audition Prep from New School Alumni:  Ray Suhy
Banjo:  Chris Roszell
Bass Guitar: Steve Boniello
Beatboxing:  Paul Arnett
Cajon:  Nasrine Rahmani
Carnatic:  Rohith Jayaraman
Cello:  Matteo Montanari
Clarinet:  Liz Ramirez
Classical and Flamenco Guitar:  Leah Kruszewski
Classical Composition:  Alan Naime
Classical Piano:  Lori Citro
Classical Voice:  Kara Alfano
Clawhammer Banjo:  Tanner Brethorst
Conga:  Larry Salzman
Daf:  Farzin Dehghan
Drums:  Elena Bonomo
Electric Guitar:  Ayla Tesler-Mabe
Euphonium:  Michael Waddell
Fiddle:  Mike Mitchell
Fingerstyle Guitar:  Itamar Erez
Flute:  Erika Andres
French Horn:  Jacquelyn Hernandez
Gospel Piano:  Wesley Knust
Guitalele:  Roque Deschamps
Harmonica:  Cooper White
Harp:  Melanie Mashner
Hindustani Violin:  Dr. Swarna Khuntia
Hindustani Voice:  Shudhi Ramani
Indian Classical Voice & Harmonium:  Surbhi Samdani
Jazz Guitar:  Ben Sher
Jazz Piano:  Tamas Balazs
Keyboard & Baritone Ukulele:  Heather Gerber
Logic Pro:  Andreas Häberlin
Loog Certified Guitar:  Emily Zimmer
Mandolin:  Alan Epstein
Marimba:  Chaiya Odle
Metal Voice:  Tim Aymar
Musical Theatre:  Jack Wilkins
Native American Flute:  Ami Sarasvati
Neo Soul Guitar:  Leticia Filizzola
New Age Piano:  Beverly Cashin
Oboe:  Grace Mehm
Ocarina:  Ryan Williams
Orchestration:  Daniel Warren
Pan Flute:  Mariana Preda
Pedal Steel Guitar:  Ross James
Piano:  Hector Crespo
Pop Voice & Piano:  Jerrica Alyssa
ProTools:  Pierre Lalonde
Quena Flute:  Nayo Ulloa
Recorder:  Elise Barber/Tali Rubinstein (tie)
Rock Piano:  Veronica Gaudreau
Saxophone & Akai EWI:  Denis Belyakov
Singing: Chantal Kuegle
Songwriting:  Hannah Christianson
Soprano Sax:  Luke Fleisher
TenorSax:  Erika Friedman
Trombone:  Ethan Warden
Trumpet:  Stewart Felkel
Tuba:  Eros Sabbatani
Ukulele:  Rachel Bearinger
Upright Bass:  Sebastian Zinca
Vibraphone:  Thomas Mackay
Viola:  Lisa Williams
Violin:  Lora Gallman
Voice & Artist Development:  Jenessa Logel
Xylophone & Glockenspiel:  Alison Ervin
Teaching Languages Covering American Sign Language, Spanish, Russian, and More!
Congratulating the 12 language teachers who have each made learning a language online easy and fun.  We applaud these wonderful teachers for their hard work, and for sharing their talents, inspiring their students to learn and have fun!  Meet the language Teachers of the Year:
American Sign Language:  Charlie McNulty
Arabic:  Mohamed Abdelsalam
English:  Matthew Baker
ESL:  Leora Turko
French:  Luisa Ardigò
German:  Christoph Heinke
Italian:  Luisa Ardigo
Latin:  Mark Hamilton - Edward Bertany (tie)
Mandarin:  Kerui Feng
Portuguese:  Ines Ramos
Russian:  Elijah Bogdanov
Spanish:  Micaela Montes
Pursuing Academic Advancements
We recognize the importance of online learning to help with key academic subjects and are pleased to award the Teacher of the Year to five academic teachers. Meet the academic Teachers of the Year: 
ACT English & Writing:  Dave White
Algebra I & Geometry:  Joseph Cioffi
Chemistry & ACT Math:  Nomagugu Ncube
English Literature & Composition:  Rose Devika
IB Math HL:  Stavros Mouslopoulos
We are Grateful for the Lessonface Teaching Community 
We are truly grateful to our entire teaching community at Lessonface and congratulate this year's Teachers of the Year.