Q&A: How did you choose your instrument?
Here's some advice from teachers on how to choose what instrument to play. Individual results should vary, but in general: Learn to play the instrument that calls you, and don't limit yourself to just one.
Learn music theory on the piano.
Liz Turner, piano and voice teacher, said "I would advise students to start taking piano as their first instrument at an early age, around 5 years old or so. Even if you want to sing, or pick up other instruments, piano is great for learning a basic foundation of music theory."
Elizabeth Rentas, keyboard and piano teacher, said "Piano is always a great starting point because of all the basics one would learn. Other factors to take into consideration would be someone's age (children and size of instrument, etc.), budget, space needed for instrument, etc."
"I have always loved the piano and was lucky to have a piano with parents who played. Just listening to them influenced me. And I always had my little transistor radio with me whether riding my bike or around the house. I feel that taking piano lessons from the time I was seven years old opened me up to loving all types of music including pop, classical, and older music from different decades."
Brandon Buckley, guitar and piano teacher: "Piano is an ideal way to learn theory."
Let your instrument choose you.
Leigh Stuart, cello teacher: "I think it's best to follow your gut and heart when it comes to choosing an instrument. I was a tiny kid, and the cello case towered over me. I had to drag it on a school bus several days per week while growing up. It was not the most practical choice, but I'm glad my mom supported me at the time. I chose it because I not only loved the sound but the feeling of playing it."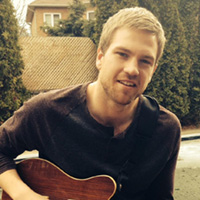 Adam Simmons, guitar and songwriting teacher pictured to right: "I would say that you should choose whatever instrument you enjoy listening to the most. I was obsessed with rock and roll as a kid which is what inspired me to start playing guitar. I believe that you are most likely to succeed in something that you are passionate about so you should always follow your heart and do what you love."
Guitarist Adam Littman said "Pick an instrument that allows you to express yourself fully. I spent 12 years putting in hard work on saxophone, before realizing that I needed to express myself with my words... which is literally impossible while playing sax. So I switched to guitar & piano, and focused on singing."
Try it out.
Tony Bertram, drums teacher: "Try it! Pick any instrument, try it for a while, take lessons if possible and decide how much you enjoy it. I chose drums because rhythm always amazed me. It also helped that my cousin was an awesome drummer and gave me lessons. Music feeds into itself. Each instrument you become familiar with makes you a better musician."
And remember, learning to play instrument takes time. Guitar teacher Ray Suhy said "The next tip I'd give is just to stick to it. Learning an instrument is all about persistence! Keep going and you will be rewarded! Theres no better feeling than finally being able to play something that once seemed impossible to you!"
Why learn just one? Keep exploring.
Piano teacher Gonzalo Grau said "My parents chose cello for me when I was just a baby. Both my parents are musicians and they chose well; knowing a string instrument gives me knowledge over a big part of a symphonic orchestra. 
"Later, music gave me so many other choices, that I kept learning instruments with no limits. My advice would be to try different instruments, go for the ones that moves you deeply, but never be afraid to try and explore others."
Multi-instrumentalist Jeff Moore: "Music is about expressing yourself and sharing with the people around you. Think about the instruments used by some of your favorite musicians, but also think outside the box.
"You'd be surprised how fun and gratifying it is to learn a lesser-known instrument! Don't be afraid to try something out-of-the-ordinary."
Broadway singer and voice teacher Natalie Bradshaw, pictured to left: "I play 9 instruments and I love them all!! I love many different kinds of music and playing multiple instruments allows me to participate in all of them!"
Choose mandolin.
Micah Bost, mandolin teacher pictured to right, said, "When I first starting playing, I couldn't decide whether I wanted to play the violin or the guitar. I eventually settled on the mandolin - the ultimate cross between the two. The mandolin notes like a violin and plays like a guitar so it has the best of both worlds!"
Another mandolin teacher, Alan Epstein, said: "It's easy, everyone knows the world needs more mandolin players!"
---
Continue reading: