Teachers of the Year for 2019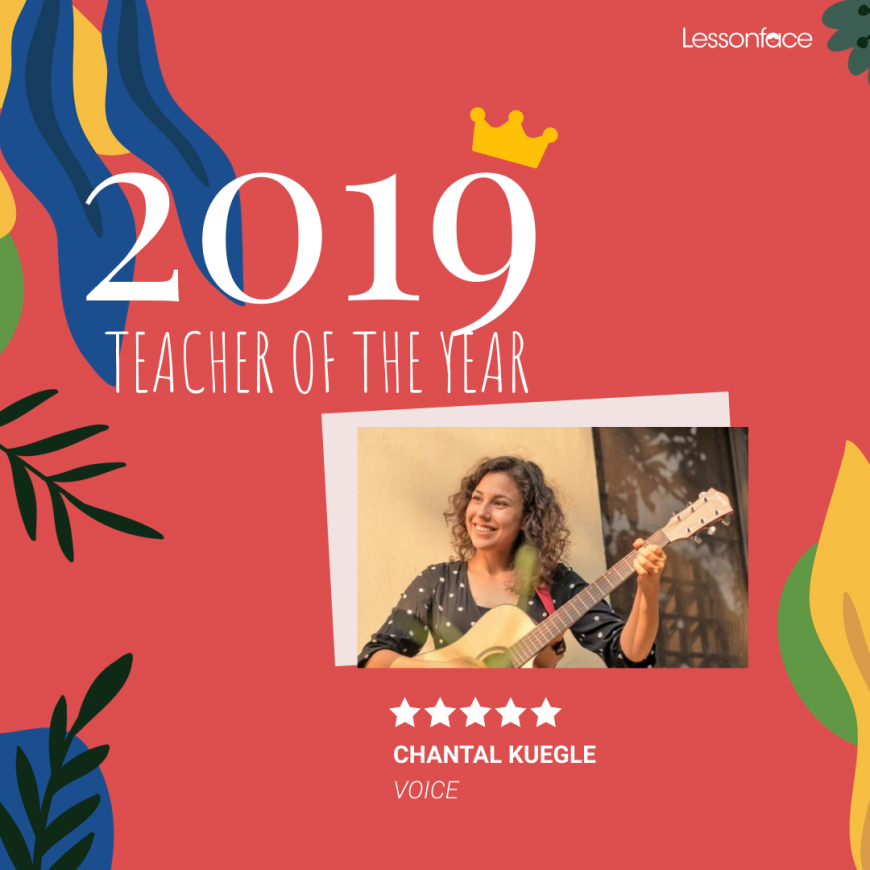 2019 has been our biggest year yet at Lessonface, with more lessons, students, and teachers interacting, teaching, learning, inspiring than in any year previous. On this final day of 2019, we celebrate the end of 2019 in naming our Teachers of the Year. These commendations are based on a combination of time spent in lessons, and the reviews the teachers received. Many very excellent teachers are unfortunately not included in this list, as we restrict each lesson category to just one teacher of the year. We give huge thanks to all of the teachers (and students) who make the lessons here so excellent, and are looking forward to another great year! 
 Our overall Teacher of the Year for 2019 is Chantal Kuegle, who answered a few of our questions about her approach to teaching and her advice for other teachers and students. Congratulations to Chantal, to all of the teachers of the year listed to the right (alphabetically by the lesson category), and to all of the many other excellent teachers who share their wisdom with students, inspiring us to grow better together.
Lessonface: What made you decide to start teaching online?
Chantal: I move a lot and I wanted to have a more stable teaching schedule. With online lessons, I can travel for gigs and still maintain my students lesson schedules. I also like that I can reach a wider audience with online lessons. I have students from all over the world, many are in places where lessons are difficult to access. 
Lessonface: What do you like most about teaching online?
Chantal: I enjoy meeting and working with students from all over the world. 
What do you teach?
Chantal: Primarily voice, but I also teach guitar, ukulele, recorder, and music theory.
Lessonface: Has anything about online teaching surprised you? (If so, what?)
Chantal: The ease of it all. The platform and zoom meeting rooms are great and easy to navigate. But I am especially happy with Lessonface, they take care of the scheduling, payment, and tech. With this, I am able to focus fully on each student and their individualized lesson plans. 
Lessonface: Any general advice for students and teachers who are considering online lessons?
Chantal: For students, find a quiet space where you take your lessons and that you can also use as a practice space. 
For teachers, ensure that students know what the expectations for lessons are at the start. Go over the general structure of lessons and what is ideal in terms of lesson consistency and practice time. 
Lessonface: What is your usual set-up for online teaching? Is there any technical advice you would give other teachers and students?
Chantal: A quiet space, clean background, a place where you can sit or stand (for voice) or a place that your instrument is fully visible. 
Spend time familiarizing yourself with the platform and with the zoom meeting screen before your first lesson. Use the test room to get to know all the different options in the zoom meetings. The screen share option has been a very important tool in my teaching. I can give students control of the mouse icon, which has been a great way to incorporate interactive activities.
Lessonface: Has your approach to teaching online changed since you started?
Chantal: Yes, mostly with finding resources that work better for online lessons. For example, I often use the screen share option and messaging system for sharing electronic resources with students. I also have developed a large repertoire of instrumental versions of songs for vocalists to have and sing with. 
 
---
Happy New Year to everyone! Hoping you have a wonderful final few hours in 2019, and wishing you all the best in the new year.